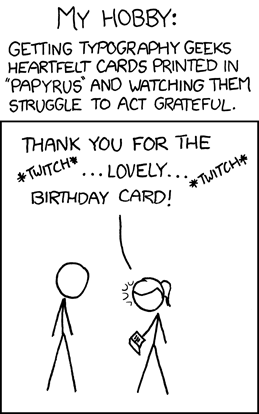 At least they are not using Comic Sans. That would get a wicked visceral reaction!
I've seen too many congregations that used the Papryus font in their bulletin, mainly to evoke feelings about the timelessness of the Christian message. Worse yet, restaurants that want to have an upscale image would use that overused font in their menu. Stop it, guys. When even the creator complains about overuse, you know that is time to use a more appropriate font.
Let me recommend a good font site. I usually buy fonts from MyFonts.com and look at the specials. A 25 dollar investment can do great wonders with printed material.